Biography of Dr. Patricia Warren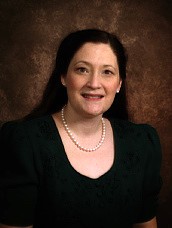 Dr. Warren, a native of Philadelphia, is an alumna of Duquesne University and The University of Georgia. At Duquesne, she earned the Bachelor of Music cum laude with majors in flute performance and the English Honours program as well as the Master of Music degree with majors in voice performance and Catholic sacred music. During her studies at Duquesne she also served as chapel music director, Vespers cantor, founding director of the Madrigal Singers, and graduate conducting assistant. She earned her Doctor of Musical Arts degree at The University of Georgia, where she held a doctoral performance/research fellowship, taught voice, conducted several choirs and the Opera Workshop, and prepared the university choirs to sing major works as diverse as Carmina Burana for the Atlanta Ballet and Haydn's Creation for Donald Neuen. Her academic training, while primarily focused on choral and orchestral conducting and vocal pedagogy and performance, has also included work in French language and culture, Medieval and Renaissance studies, kinesthetics, and music pedagogy for students with chronic illnesses/disabilities/aging issues.

She spent five years as Assistant Professor and Director of Choral Activities at St. Ambrose University in Davenport, Iowa, where she directed the choral program, including annual major sacred works with orchestra, honor choir festivals, and festal masses for university events; maintained a large vocal studio; taught conducting and other choral and sacred music courses; and worked on interdisciplinary projects with English and Art History faculty and students and the Quad City Dance Ensemble. She also was music director of four musical theatre productions including Fiddler on the Roof, Godspell and Into the Woods. As Assistant Professor of Fine Arts at St. Michael's College in Burlington, Vermont, she taught voice and flute, directed two choirs, and taught music theory, composition/orchestration, conducting, and medieval and Renaissance music history. In 2001, Dr. Warren moved to Raleigh and spent two years as Chair of the Fine Arts Department at St. Timothy's-Hale School (now St. David's), followed by four years at Raleigh Latin School, three of those years as High School Principal, where she also taught required courses in 8th grade music theory, 7th grade Christian Epic and Allegory, and music and art history/appreciation, and elective voice class, instrumental chamber music, and AP music theory. She homeschooled from 2008-2010, and then spent a year implementing a classical curriculum in the Thales Academy Junior High campuses in Wake Forest and Apex campuses before returning to private teaching. She served on the founding board of Youngsville Academy Charter School, and upon its opening in July 2015 became its first principal, guiding the school through its successful first year. In summer of 2016 she returned to studio teaching full time as well as inaugurating her heirloom-rosary-making business, Flower of Carmel Rosaries.

Dr. Warren has been involved in church music ministry since she was six years old, and is certain that that early experience shaped her entire life and vocation. She has never not been involved in music ministry, and has 30 years' experience as director of music/choirmaster/liturgist in various denominations. Since 2004 she has served as Choirmaster of St. Timothy's Episcopal Church in north Raleigh. She converted to Catholicism in 2008, and serves as the director of Schola Vox Clara, a Gregorian chant schola which serves the Catholic Diocese of Raleigh providing traditional music and chant for both Extraordinary Form Masses and Ordinary Form Masses; and she volunteers in music at her home parish, Sacred Heart Catholic Church in Dunn. She was the founder and director of Christe Lux Mundi, an ecumenical Christian youth choir in Raleigh, which served students from public, private, and homeschool backgrounds from 2004-2008.

Dr. Warren's personal vocation is to be a conductor/performer/pastoral musician/teacher who models what she believes to be an essential partnership of faith and knowledge, showing through her teaching, performing, and witness that faith and knowledge must both be present in the Christian mind and heart. The axiom "Know what we believe, why we believe it, and how that belief directs our actions" informs every part of her life. In addition, over her more than 30 years of teaching/ministering, she has a particular vocation for teaching people of all ages to sing who believe that they never could, and for teaching those who are challenged by chronic disease or disability.

Dr. Warren lives in Granville County with her husband Robert, a Teaching Associate Professor of Chemistry at NCSU, and son Andrew, a senior at UNC-Chapel Hill and ROTC cadet.